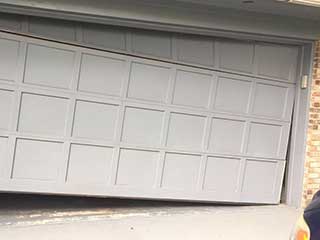 It's always advised to avoid doing serious repairs on your own when it comes to the complex system of your garage door. Here you can read about malfunctions you can examine on your own, which are the common ones.
The Rail Path Is Blocked
Sometimes after a big storm, debris, fallen leaves, and other obstacles build up in the rafters. This mixture drips into the tracks where the garage door rolls through to open or close. This stops from the door opening or closing properly. This is inconvenient since it might halt the door half way. Using a broom or a hose to push the blob through to clear the tracks is the key. Also, make sure that nothing in the front or behind the garage door directly as it opens.
It's Manually Locked
Setting a manual lock on the garage door is possible. It's often done during maintenance and repairs. If your garage door isn't opening right away, check to see if the door itself is physically locked. It's a feature from some of the older houses that most never bother to replace. Electronic methods won't work if the door is physically held down.
The Transmitter Might be Out
Many garages nowadays are updated to wireless. It's likely the frequency your transmitter is working is conflicting with the neighbors. First, make sure all the antennae and remotes are working as they should. Check the batteries in all the electronics involved. If your transmitter is still giving you trouble, check the manual for troubleshooting.
The Batteries Could be Dead
As mentioned above, sometimes, batteries need to get replaced. The opener inside and the remote outside would not be able to connect without any batteries. If the power source malfunctions, it could also trip up any security system in place. Do a monthly check on your batteries to see if they need recharging or replacing.
The Door Keeps Reversing
If the door keeps reversing no matter how many times you push on the opener, clicker, and remote – that means something might be obstructing the sensors. Take a closer look, and make sure both photo-eyes are clean. Proper cleaning should fix it, yet if the door keeps reversing you might need to call a professional to fix either the sensors or the opener.