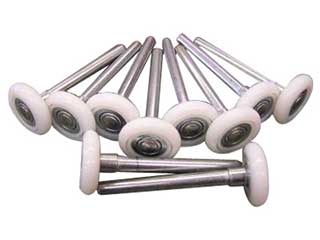 In a typical system, there are over three hundred garage door parts. Practically all of them require care on your part to do their job normally. Among the most important components that require attention, you will find the rollers. Learn more about their operation and how to keep them in optimal operating condition.
What You Must Know

Overhead doors of a standard size usually have three rollers on each side - bottom, middle and top one. They are six in total. All six components are completely identical in terms of design and size. Each roller has two parts - a wheel and a stem or axle. Roller sizes are based on the diameter of the wheel. Most residential doors require 2-inch wheels. Fewer ones work with wheels that have diameter of 1, 3 or 4 inches.
The job of the rollers is to guide and facilitate the movement of the unit along the horizontal and vertical garage door tracks. The stem of each component is secured to the respective panel via a special hinge while the wheel moves inside the track. Unlike the springs and cables, these components are not under tension. They do not bear the weight of the door. However, since the wheels move while in contact with the walls of the tracks, friction occurs. This poses the need for careful maintenance.
There are two types of garage door rollers available. The metal models have stems and wheels made from metal. The so called nylon models have metal stems and nylon wheels. The nylon wheels are quieter than their counterparts. They are also more resistant to water damage. However, they are not usually as durable as the metal ones.
It is important to know what rollers you have as this will determine what care they require. Metal wheels require lubrication maintenance while nylon ones must never be lubricated. In any case, you should lubricate the hinges housing the stems. Before lubrication, the components must be properly cleaned with a safe solvent and soft lint-free cloth. The professionals of our garage door repair company in Tampa recommend that you use a brush to apply a thin layer of lubricant on each metal wheel. Inspect the hinges, stems and wheels for wearing. Worn hinges have oblong rather than round cylinders holding the stems. All worn or damaged parts require timely replacement.