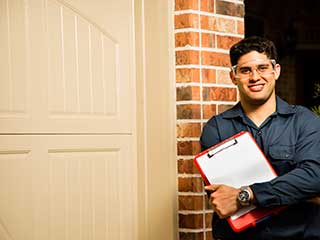 For a fast motor fix or broken spring replacement, count on the professionals of our company, Garage Door Repair Tampa. Our repair services cover doors, hardware and openers of all types and brands. Count on us for emergency assistance when you can't open the door or have lost your clicker. We not only fix automatic doors, but install new systems and provide full maintenance on a regular basis.
Expert Garage Door Services
When the door is completely stuck and you cannot get in or out, count on us to come quickly and deal with the problem on the spot. We'll run a check to identify the underlying cause and eliminate it. If a spring is broken, rely on us to install a new one of the same size, but is much stronger and more durable. We fix and replace extension and torsion springs of all designs and makes. The spring repair is completed with testing to ensure that the automatic door works properly.
If you have a malfunctioning or faulty opener, we will fix it accurately without wasting time no matter whether it is a chain, belt or screw drive device. Our skilled technicians repair motors, straighten bowed rails and replace broken gears and trolleys. We, at Garage Door Repair Tampa, use only high-quality spare parts to deliver exceptional results. When necessary, count on us to adjust the travel limits and force.
With us, you get:
Quick response - We're always available to assist you in emergencies like broken cable or spring.
Professional solutions - Rely on us to repair panels, hardware and motor equally well.
Lasting results - With top-quality spare parts and testing we ensure that all will be fine.
Our garage door installation services are designed to give you a reliable new system which will run smoothly for a long time to come. We'll assist you with choosing the right unit by explaining all about the make, structure and insulation options. Count on us to complete the installation work without delay and to fit all hardware parts and panels with maximum precision. We provide maintenance to electric doors of all ages and do all required tasks from inspection and testing to cleaning, lubrication and preventive repair.
Our company will be there for you in any situation. Check our this review from one of our happy customers:
"The technician arrived shortly after my call, replaced the broken cable in minutes and adjusted the door properly. Excellent job!"
To take advantage of our services, give us a call or send a message.