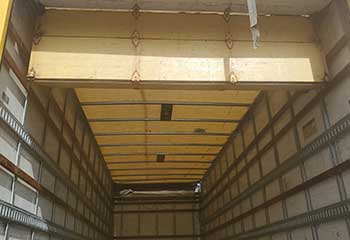 Panel Replacement
Customer Issue: The customer's garage door took a lot of wear and tear over the years, and she decided it was time to replace the offending panels.
Our Solution: These were standard-sized aluminum and foam garage door panels, so the brand didn't matter. We ordered the new panels from our suppliers at Clopay and replaced the old ones with them as soon as they arrived. Once we put the garage door back on its tracks with the new panels and the customer repainted the outside a uniform shade, you could mistake it for a brand new door!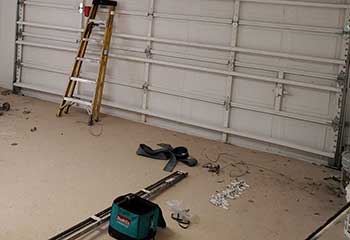 Garage Door Opener Replacement
Customer Issue: Ms. Jinn's new house came with an automatic garage door, but no opener. She needed a compatible one installed.
Our Solution: The customer's spring system was compatible with wall-mounted openers, and she wanted to save space in her garage. So, we installed a Chamberlain RJO20 wall mount right beside the garage door. This smartphone operated baby also came with a preprogrammed remote handset for backup, and its own sensor and auto-lock systems. An easy installation process, with very satisfying results for the customer.