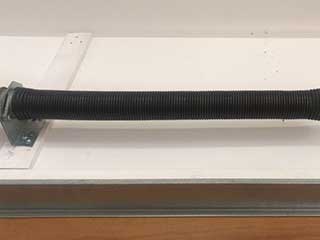 Quick Broken Spring Replacement
It may go without saying, but one of the worst things that can happen with a residential garage door is for the spring to break. The door becomes impossible to open either with the opener or by hand. Count on us to help you solve this problem by replacing the broken spring with a new one of which has the same length and inside diameter as the old one. How about the cycle life? It's our commitment to install only the most durable replacement components. The installation of a torsion spring involves careful winding for achieving perfect door balance. With an extension spring, we at Garage Door Repair Tampa, take extra caution to secure it accurately to the stationary bold on one side and to the pulley on the other. Testing will confirm that the replacement is successful and that the door works reliably and safely once again.
Torsion Spring Maintenance
While the extension springs don't require any special care, the torsion ones do. When you leave the maintenance of your automatic door to us, we'll ensure that these components work flawlessly. Testing involves lifting the door halfway to open position while the opener is disconnected. If the unit moves up or down rapidly, count on us to adjust the force accurately. If the previously used lubricant has turned into sticky lumps of dirt, the coils will be cleaned. The final step involves applying lubricant. It helps to reduce the friction between the coils of these garage door springs and to give them a longer useful life.
Need more? We also provide:

New Opener Remote Controls

Roll Up Garage Door Services

Garage Door Tune Up Services

Garage Door Cable Replacement