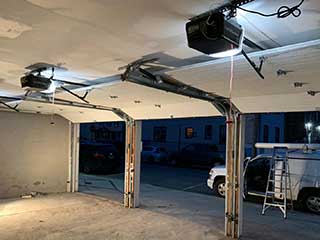 Just like all types of devices used on a daily basis, garage door openers are becoming ever more advanced. Some of the innovations focus on resolving common issues such as noisy operation, while others allow for integration with the latest technologies that have taken over our lives, such as smartphones. Here is an overview of some of the most notable ones.
More than the Good Old Electric Operator
Have you heard of direct drive openers? These have been around for some time now, but they have innovative operation compared to their traditional counterparts. Forget about the traditional stationary motor unit. The motor is compact and actually runs along the garage door rail instead of the trolley. This simpler design makes maintenance a lot easier. The inventors and manufacturers claim that the direct drive technology is also the quietest invented to date. Indeed, you will not get the noise typical for a chain drive unit.
You can have a "smart" opener which regulates its own operation. The technology monitors basic indicators such as the weight of the door to control the amount of power used by the motor and the overall functioning of the unit. When there is a significant deviation from what is normal, the opener will stop working so that possible damage is prevented. For instance, in case of broken garage door spring, the weight which the operator will have to lift will be much higher. This will be automatically indicated and the technology will stop the device from operating. This type of technology can cost you more money initially, but it can help you save a lot more in the future.
One of the most exciting recently introduced technologies enables you to control the opener via your smartphone, tablet or personal computer from any point around the globe where you have an internet connection. There is a special app designed for the purpose. You can use it directly to open and close the overhead door even if you are on the other side of the globe. It also enables you to monitor the door remotely. You will receive updates on the status of the system regularly. In this way, you can react quickly in case of an accident. You should keep in mind that this technology is just starting to evolve. Currently, you will need a special gateway device, which is connected to the home router, to link the opener to your smart device. Alternatively, you can opt for a Wi-Fi enabled opener to eliminate this step.
Finally, you should not forget about seemingly smaller advanced features which may be of great use to you. You can get a timer which produces visual and audible signals during door closing for greater safety. You can also opt for an opener with battery backup, which can be used for running the device when the power is out.